A few clicks and an e-signature are likely to be the only things standing in the way of University of Wisconsin football players being part of EA Sports' NCAA Football video game scheduled to release next year.
The video-game maker is putting the final pieces in place to launch another edition of its popular college football title, signing a deal last week with OneTeam Partners, LLC, to facilitate name, image and likeness deals with college football players to put them in the game. Some of the details have yet to be ironed out or shared with schools, but the Badgers have familiarity with OneTeam Partners as it was the firm that handled the group licensing agreement that allowed UW's Bucky's Locker Room store to sell jerseys and other apparel featuring players' names and numbers.
Brian Mason, UW's director of NIL strategy since the position was created last summer, was on the Badgers football communication staff for 12 years before changing roles.
"Over the years, the number of times that we've had student-athletes talk about how they wish the EA college football game was still around, or they could have been in that … I've had those conversations a number of times," Mason said. "So I think the excitement will be really high on the student-athletes' part. Definitely excited here institutionally to be part of this and have the opportunity for our student-athletes to be in a video game. And then obviously, for our fans, I think it's a really exciting development."
"NCAA Football" video games stopped being published after its 2014 edition, which released in July 2013, but has remained popular with gamers. A copy of the 2014 edition sells for $163 on Amazon, nearly triple its original sale price.
The O'Bannon v. NCAA Supreme Court case in 2014 called into question the game and its college basketball relative for having players' likenesses without compensating the athletes, and the court's ruling that the NCAA was violating antitrust laws led to the game's hiatus.
Multiple outlets have reported that players will receive a royalty of $500 for being in the game, but Mason said an exact figure has not yet been told to schools. UW has been in contact with media companies working with EA Sports to capture still frames and video of Camp Randall Stadium to recreate it in the game.
Mason said UW would not have participated in licensing its logos and other materials had EA Sports not provided players with NIL payments. EA Sports told ESPN last week that if a player chooses not to be in the game, developers would create a generic avatar and player for that roster spot.
EA Sports has not yet sent its group licensing agreement out to athletes through OneTeam Partners, and a timeline for when that will happen hasn't been shared. But Mason has been told opt-in process will be similar to what Badgers athletes experienced when allowing their names to be used on jerseys and T-shirts. OneTeam Partners uses a platform called COMPASS NIL for its group licensing, and players are presented with terms before agreeing to the group licensing deals. The online process is finalized with the athletes' e-signature and initials. 
"OneTeam provided us with onboarding documentation, best practices and all of that to make it as easy as possible for the athletes," Mason said. "It was a really straightforward process."
Mason said UW staff was responsible for presenting the group licensing opportunity and educating athletes on its particulars for the apparel deal last season, and he anticipates that being similar for the video game.
10 names to know after Wisconsin football's spring practices
QB Braedyn Locke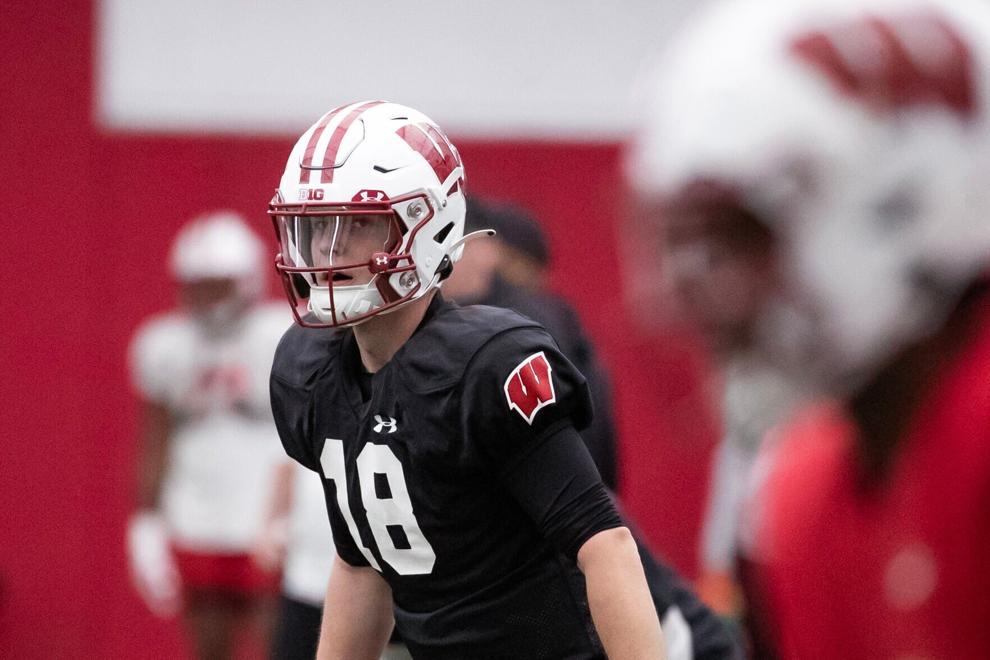 Projected role: No. 2 QB
What to know: The Mississippi State transfer is set to be the Badgers' backup quarterback behind Southern Methodist transfer Tanner Mordecai, but the gap between Locke and QB1 isn't as wide as most thought. Locke is a smart decision-maker, accurate with the football and reads defenses well.
Notable quote: "He is the model of consistency and he's gotten better with each practice," offensive coordinator Phil Longo said. "And he has a tremendous — he and Tanner probably had the best overall understanding of the offense and just the game of football in general."
RB Cade Yacamelli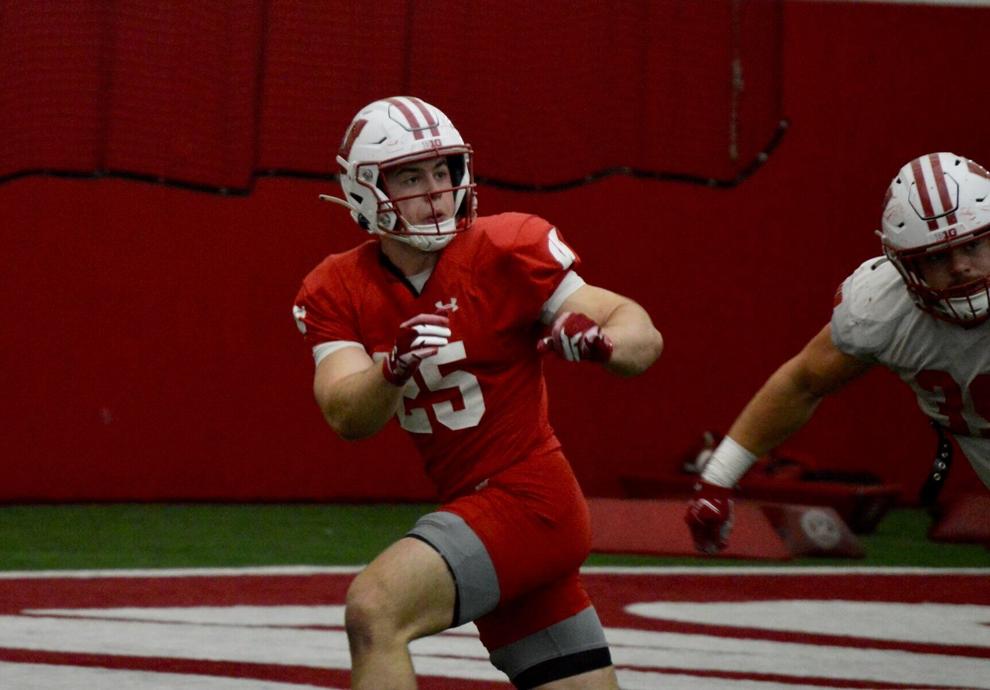 Projected role: In the mix for No. 3 running back
What to know: Yacamelli spent the first half of last season at safety before taking over as scout team running back. His speed, agility and receiving ability — UW once thought he could play receiver for the Badgers — make him an interesting changeup behind between-the-tackles runners like Braelon Allen and Chez Mellusi. Yacamelli will be competing with a handful of others for limited RB3 reps.
Notable quote: "Cade, obviously, he's a tremendous athlete," running back Grover Bortolotti said. "In the winter, he was just off the charts whether it be with speed or strength. He's a guy that's just a freak. Yeah, he hasn't played a lot of running back here, but he's definitely picking it up really well and he's eager to learn. The dude's always in the playbook trying to learn, get better. So big things ahead for him, for sure."
C Jake Renfro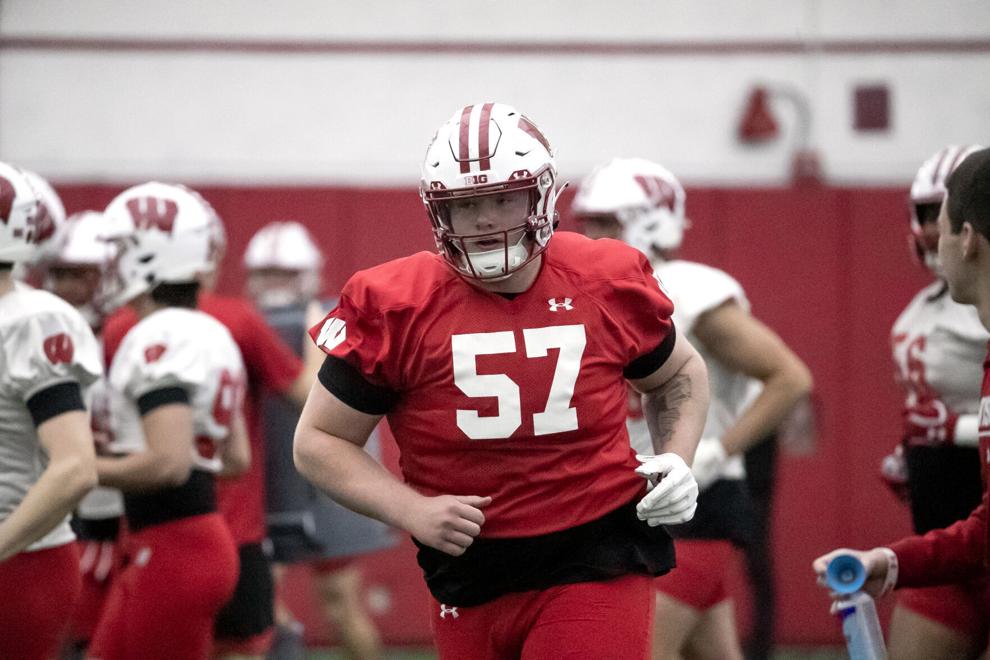 Projected role: Starting center
What to know: Renfro only got through four spring practices before injuring his left foot/ankle, but he proved to be fairly indispensable — UW had inconsistent center-to-quarterback play since Renfro went down. He's got impressive upper body strength and a good first step off the ball. His recovery would make the entire offensive line better.
Notable quote: "What's stood out to me about him, not even as a football player, just kind of as a guy, I was here when he took a visit," left tackle Jack Nelson said. "And I kind of showed him around, and it was almost like instantaneous, like he was one of the guys. This O-line group was super, super tight, and it was almost like he's always been here. He just really came in, bought in."
TE Jack Pugh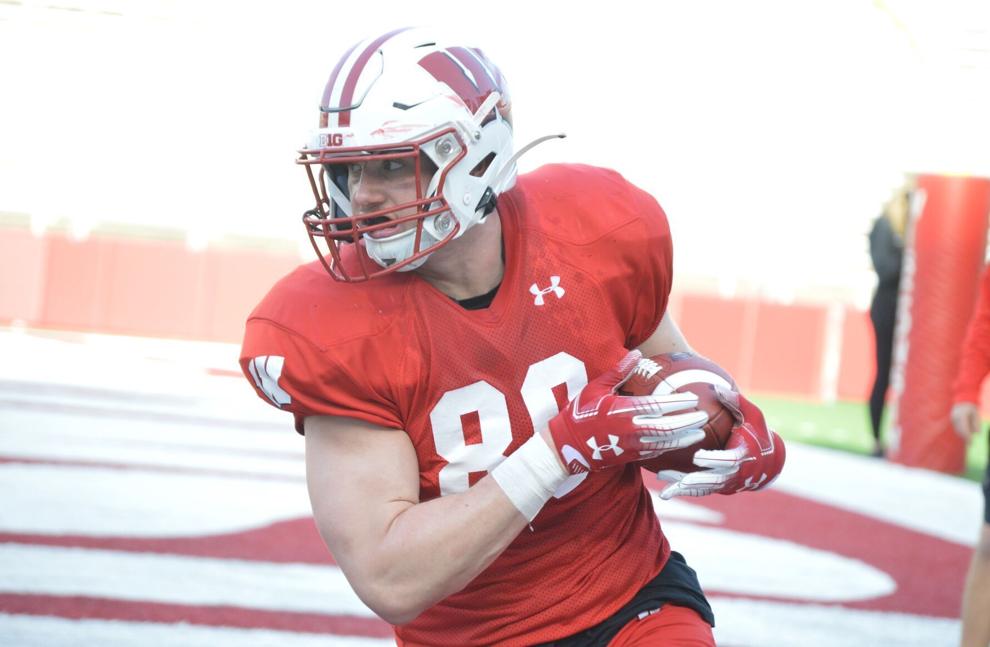 Projected role: In the mix for No. 1 tight end
What to know: UW's new offensive system needs a vertical threat up the seam. Longo likes to use tight ends in this role because their size can create mismatches that defenses can't handle, and Pugh looks like he may have the tools to fit this role. Injuries hampered his path to the field his first two years, but he's got a chance to be a weapon in the Air Raid.
Notable quote: "I think he gives the balance of the ability to play a little bit out in space but also the balance to be inside and to be a pretty physical blocker," Fickell said. "He's done nothing but do an incredible job in the winter through all the workout stuff, and then obviously coming out here every practice so far, he's answered the bell. He plays tough."
WR Keontez Lewis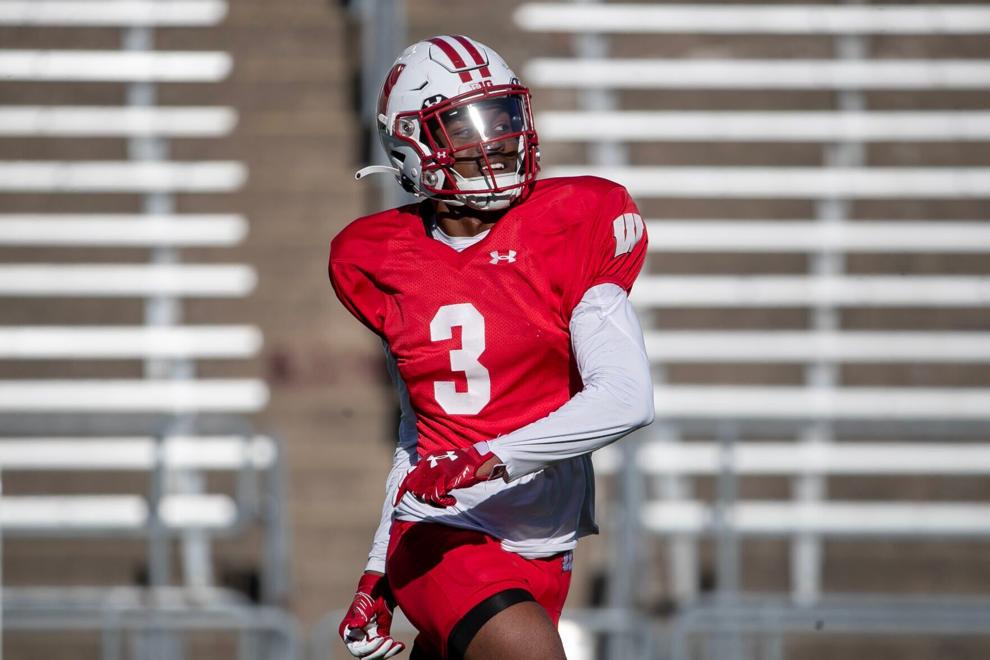 Projected role: No. 3 outside receiver
What to know: Lewis was the Badgers' best and most-targeted deep threat last season, and his speed undoubtedly will be used to challenge defenses this fall. But he showed a wider range of skill and route-running ability this spring, particularly on the quick hitch routes that are meant to be catch-and-run opportunities for receivers.
Notable quote: "He's done a great job of catching contested balls," Fickell said. "I think I've been as impressed with that as anything. Staying on your feet after some of those things, I think is the next step to it. But I think that's not just an athletic thing, that's just a confidence thing. And I think that the more and more that he does and we do with him through the spring and then into fall, I think he'll gain more and more of that confidence to stay on his feet to turn those really good plays into great plays."
DL Darian Varner
Projected role: No. 3 defensive end
What to know: Varner didn't get to show what he could do this spring as he recovered from a lower-leg injury, but his tape shows a lightning-fast rusher who has played all over the line. That skill set will fit perfectly with what Mike Tressel wants to do with the Badgers' defense, and Varner brings proven pass rushing to a defensive line that is weakest in that area.
Notable quote: "I see him being a guy that can help us with a little bit more explosion, a little bit more pop, a little bit more quickness," Fickell said. "He's different probably than some of the other guys that we've got that we'll play with. But that variety gives us a chance to do some other things."
ILB Jake Chaney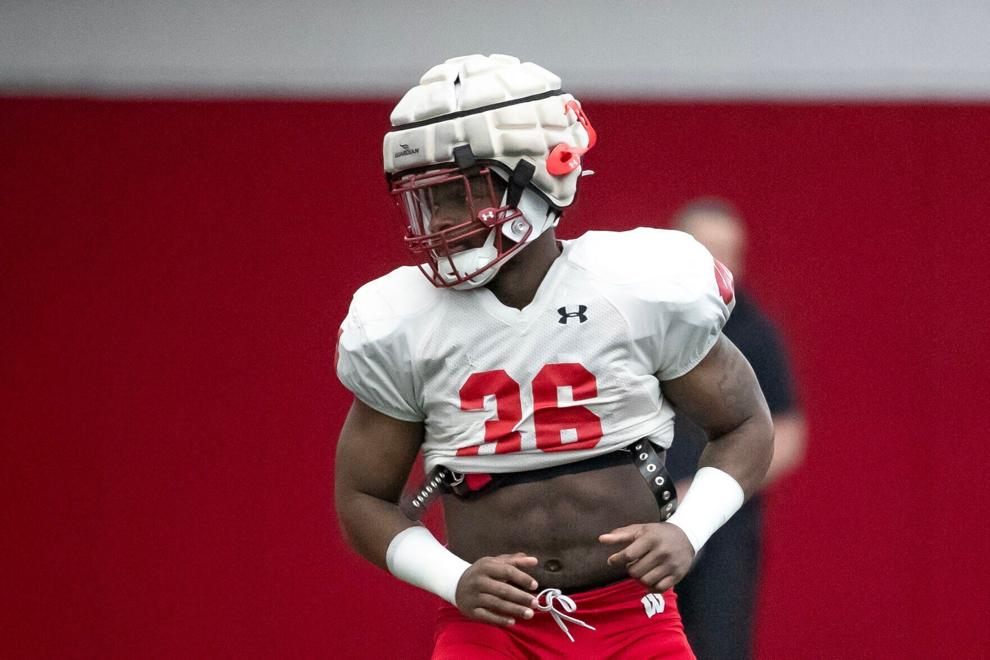 Projected role: No. 3 inside linebacker
What to know: Chaney earned playing time last season in part because of his nose for the ball and his closing speed, and he continued to show those skills this spring. He spent most of his time working with the second defense, but Chaney was with the starting unit in the three-inside-linebacker groupings Tressel experimented with. Expect him to have a role in the rotation this season.
Notable quote: "He's a 1, right?" Tressel said. "You can start saying, 'Wait a second, how could there be more than two 1s?' But he's a 1, and he's really impressed me because he has the ability to be really heavy-handed where he shocks offensive linemen and you see them stumble back 3 yards, and the next play slip them and make a play in the backfield."
OLB Jeff Pietrowski
Projected role: No. 2 boundary outside linebacker, with a chance to start
What to know: The Michigan State transfer missed a little more than half of the spring after contracting mononucleosis, but he was impressive when he returned to the field the last three weeks of practices. His get-off is among the best of all the Badgers' OLBs, and he has strong hand-fighting skills from his time as a defensive end with the Spartans.
Notable quote: "He is really on point with alignments and assignments," OLBs coach Matt Mitchell said, "and he can see if a player makes a mistake. He's been a great teammate, pulling guys off to the side and really trying to help them out. So he's doing a little bit more one-on-one leading."
CB Jason Maitre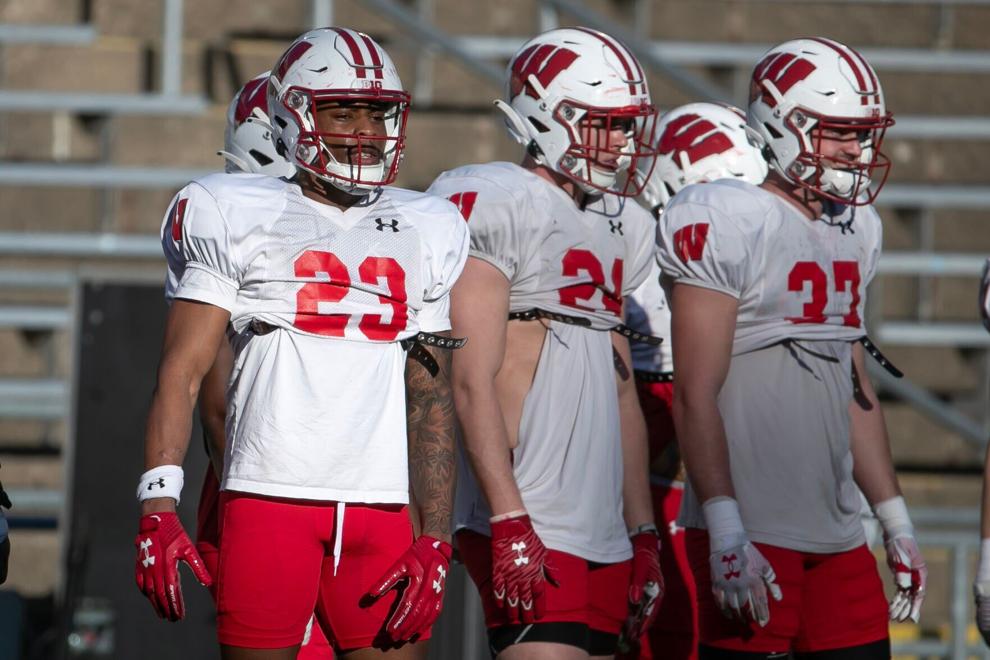 Projected role: Starting nickelback
What to know: Homing in on one position was one of the benefits Maitre found upon his transfer from Boston College to UW. He played all over the defensive backfield for the Eagles, but the Badgers are asking him to lock down the top nickelback spot and be a stopper when offenses put their top receivers in the slot.
Notable quote: "Jason's a great player," senior corner Alexander Smith said. "He shows it every day. We knew he was a great player coming from Boston College, but really just honing in on the details of the defense and the techniques. And at this point in our career, you play so much ball, it's the little things that he needs to work on everyday, that we all need to work on every day, and I think that's what he's trying to hone in on."
S Hunter Wohler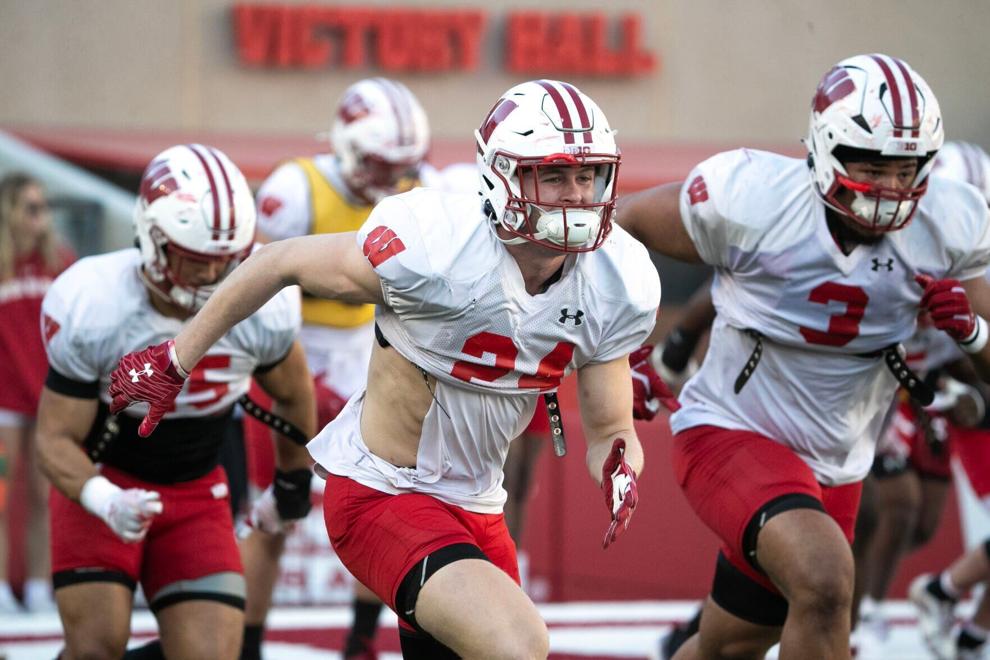 Projected role: No. 1 boundary safety/dollar
What to know: The line above was difficult to fill because Wohler is going to be all over the field for the Badgers defense. He's been seen covering deep halves as a safety, patrolling the middle of the field at linebacker depth and used as a blitzer this spring. He's poised for his most productive season yet in a UW uniform.
Notable quote: "Him having really good football instincts allows him to play a little bit closer, still see it happen and react very quickly," Tressel said. "You also have seen in the past that he's comfortable being up there close to the core and taking on blocks, and he's a physical, strong tackler. So what we're able to do with him a little bit, I would call it a hybrid position, but there's times and calls where he's gonna seem a little bit more like a true linebacker. There's times and calls where he's doing safety things. We're able to mix up some of the blitz paths from those types of positions that you might not be able to do without an obvious tell when he's coming from a normal safety (depth)."