Seemingly every offensive push by Minnesota Duluth was met by resistance from the University of Wisconsin women's hockey team Friday afternoon.
And then the top-ranked Badgers completely turned off the faucet and kept the No. 7 Bulldogs from getting a shot on goal for more than nine minutes in the second period.
It was a complete victory for UW in its first top-10 test of the season.
Makenna Webster scored two power-play goals and Kennedy Blair had some challenging saves to make among her 24 in a 3-0 victory at Amsoil Arena.
Why 'Sorry for Party Rocking' gets a shout-out on Badgers women's hockey NCAA championship rings
The Badgers won at both ends of the ice, as shown on one play in the second period. Casey O'Brien backchecked to deny what would have been a good UMD scoring chance, then Maddi Wheeler scored at the other end to put UW ahead 2-0.
"If you play well in your end and you work hard and play smart, chances are you're going to be moving down to the other end of the ice pretty quick," Badgers coach Mark Johnson said. "We were staying above the puck well and doing things that we needed to do to counter what they were trying to do."
Webster scored power-play goals in the first and second periods and has seven multiple-point games in seven outings this season. The sophomore has a nine-game point streak dating to last season when she was the Frozen Four most outstanding player.
Her goals came eight seconds and 19 seconds into power plays as the Badgers moved the puck well.
5 things to know about the Badgers women's hockey series at Minnesota Duluth
"It was a complete game, especially that we had no goals against," said Webster, who extended the national scoring lead with her 20th and 21st points. "We're short a few players, but I think everyone stepped up and I think all of our lines played a full game."
The Badgers had three players out of the lineup with injuries, dropping them to nine forwards and six defenders. Forwards Maddie Posick (upper-body injury) and Marianne Picard (lower body) and defender Kendra Nealey (lower body) missed the game and also will be out Sunday, Johnson said.
UW (3-0 Western Collegiate Hockey Association) is 7-0 to start the season for the fourth time in the past five years and for the eighth time in the program's 23 seasons.
Blair has four shutouts in her last five games and has allowed just one goal in that stretch. She was tested from close range at times by the Bulldogs (2-3, 2-3 WCHA).
"It's hard when you're not getting shots consistently so you have to stay big and stay in the zone at all times," Blair said. "When those big shots come you have to make those big saves in key situations."
Photos: Badgers women's hockey team unveils national championship banner, shuts out St. Cloud State
20211009_09_UW_StCloud_0812_AJA-10092021171527
Updated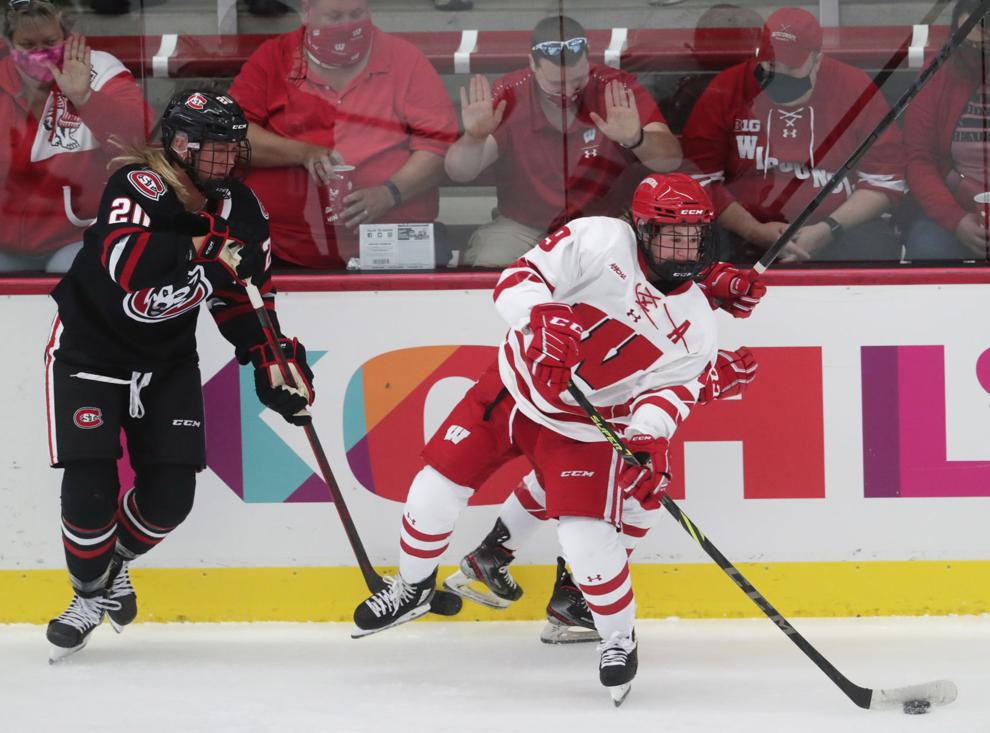 20211009_17_UW_StCloud_0142_AJA-10092021171527
Updated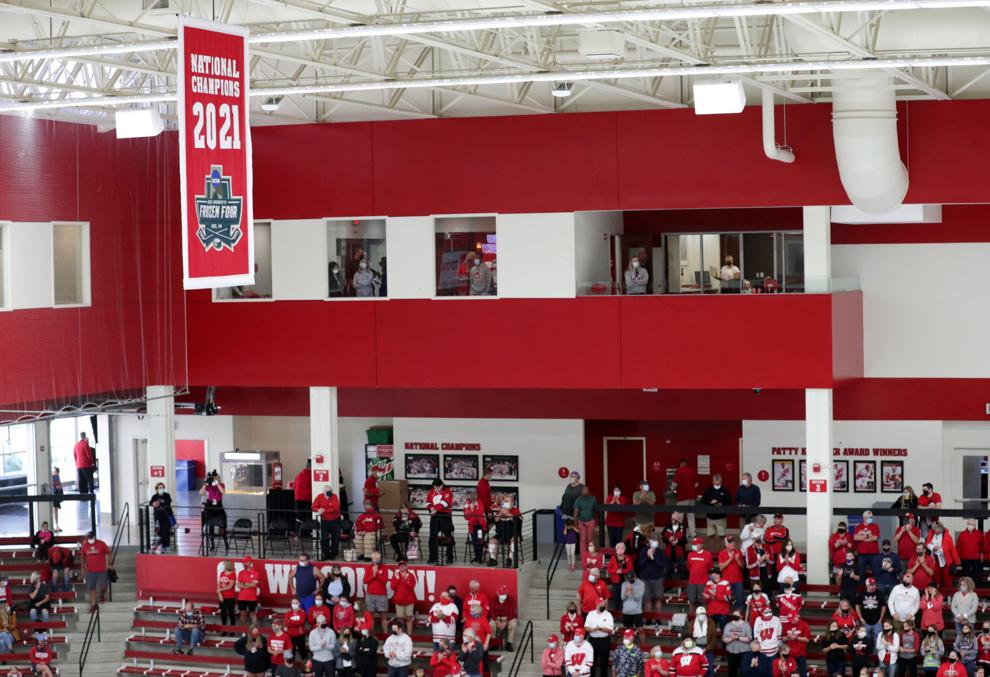 20211009_16_UW_StCloud_1160_AJA-10092021171527
Updated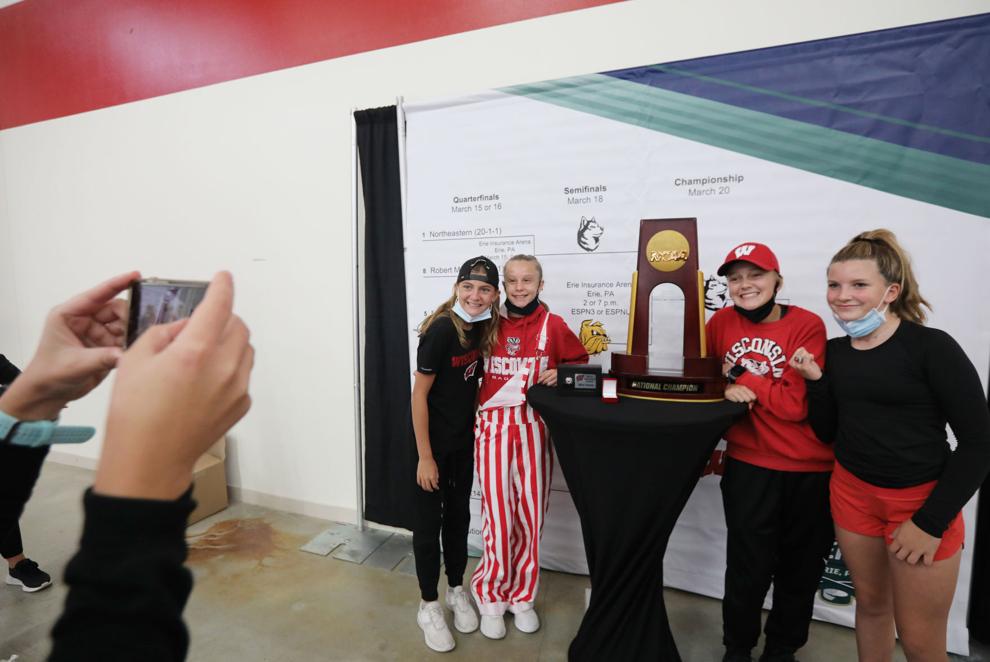 20211009_02_UW_StCloud_1922_AJA-10092021171527
Updated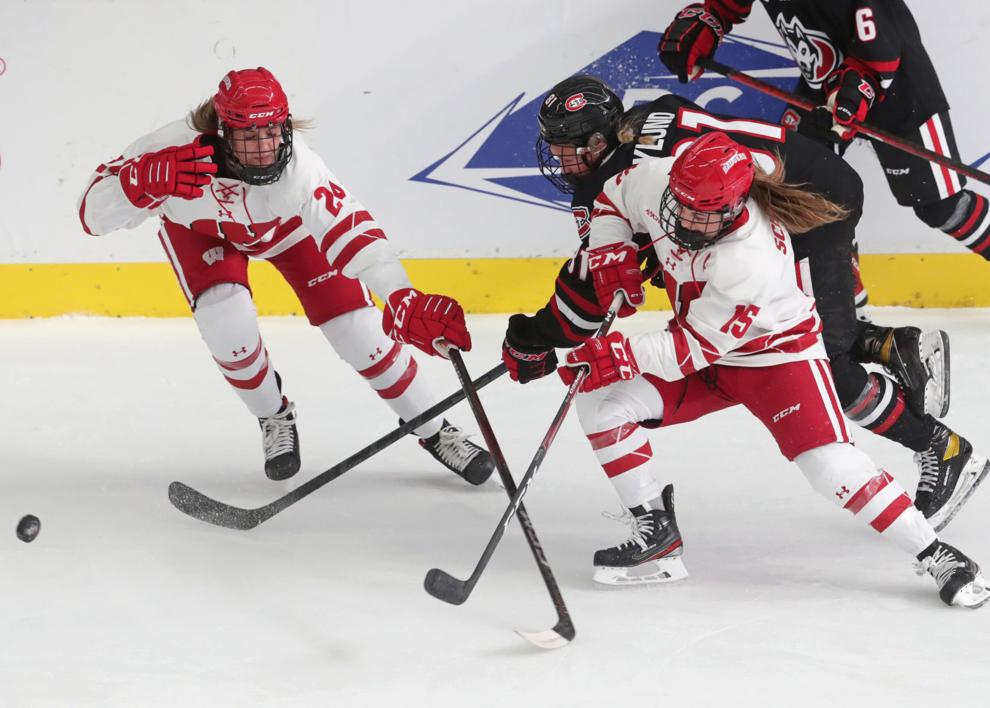 20211009_06_UW_StCloud_0994_AJA-10092021171527
Updated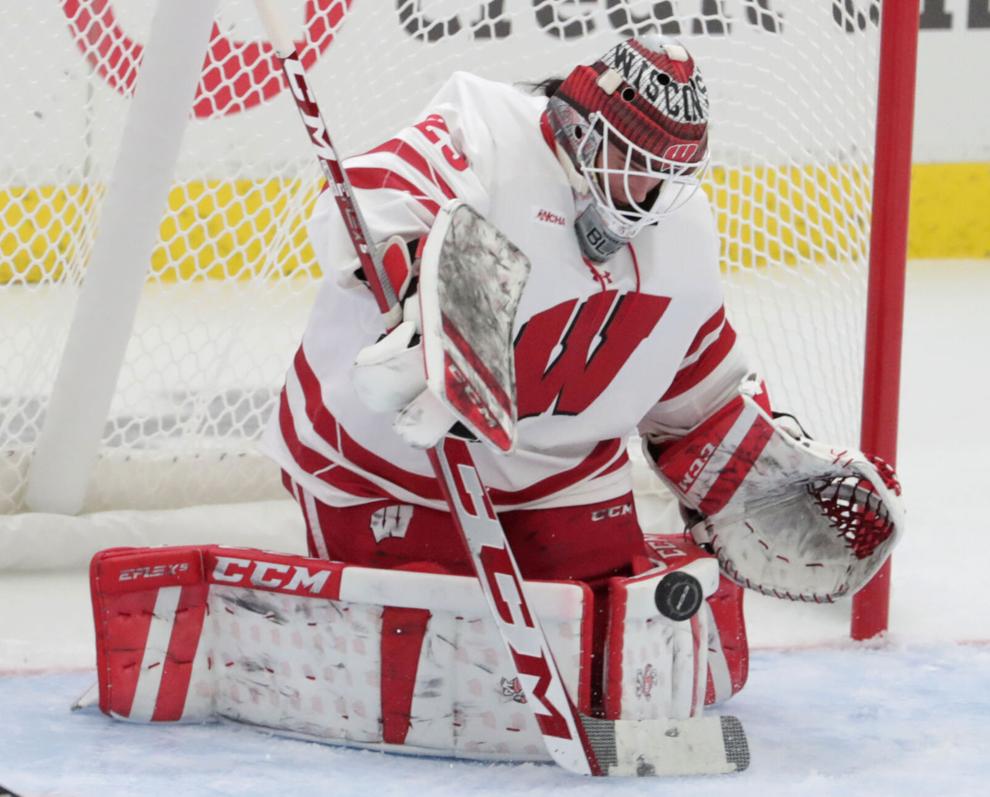 20211009_14_UW_StCloud_1502_AJA-10092021171527
Updated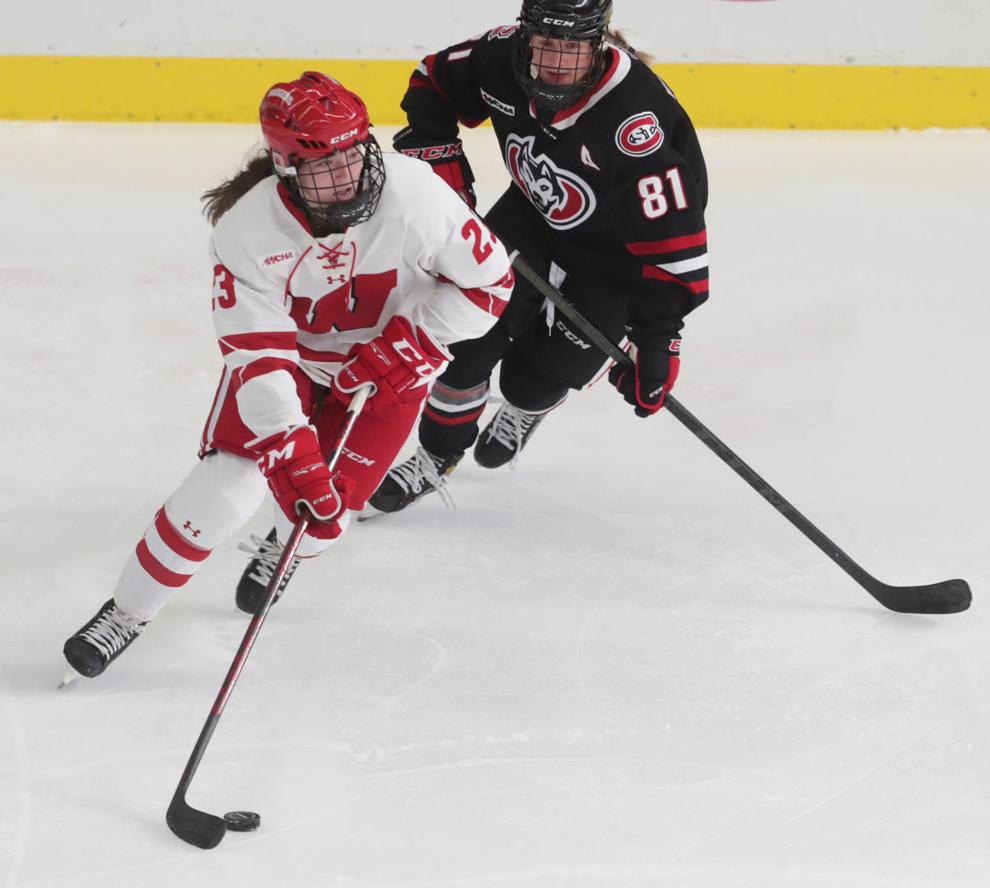 20211009_05_UW_StCloud_1103_AJA-10092021171527
Updated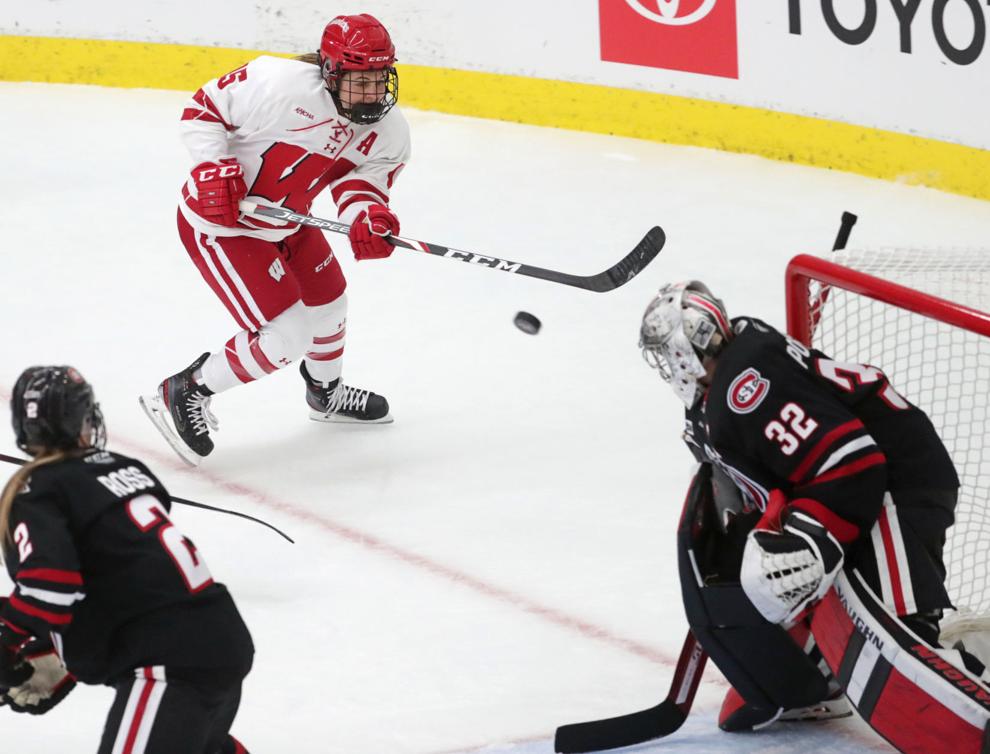 20211009_13_UW_StCloud_0097_AJA-10092021171527
Updated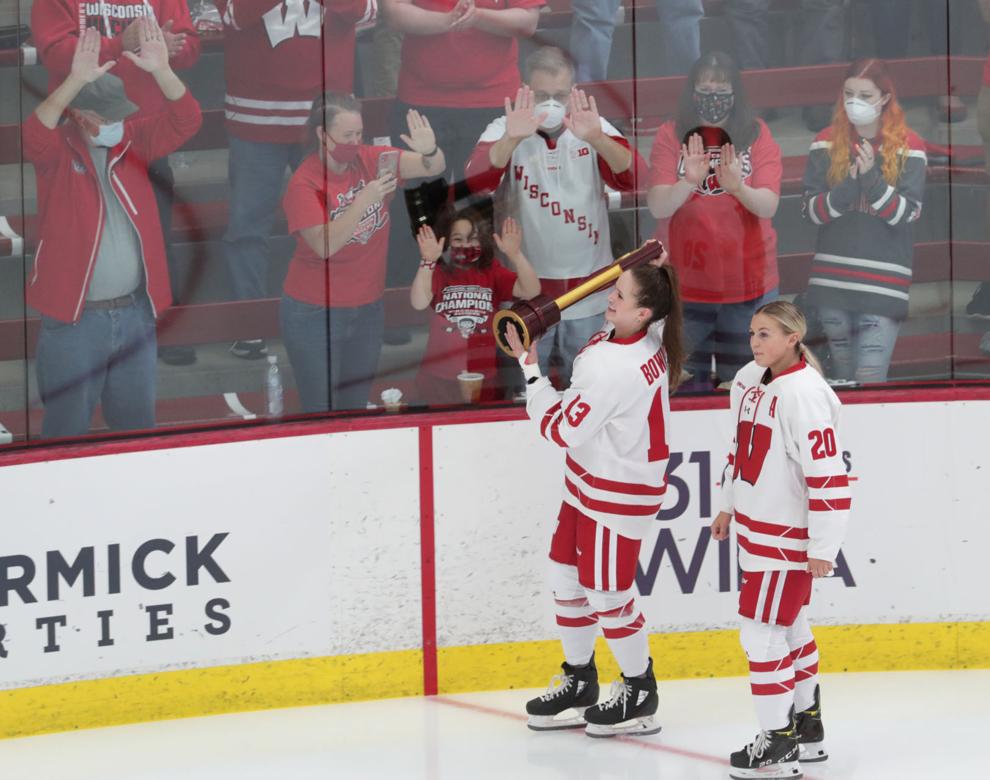 20211009_04_UW_StCloud_1673_AJA-10092021171527
Updated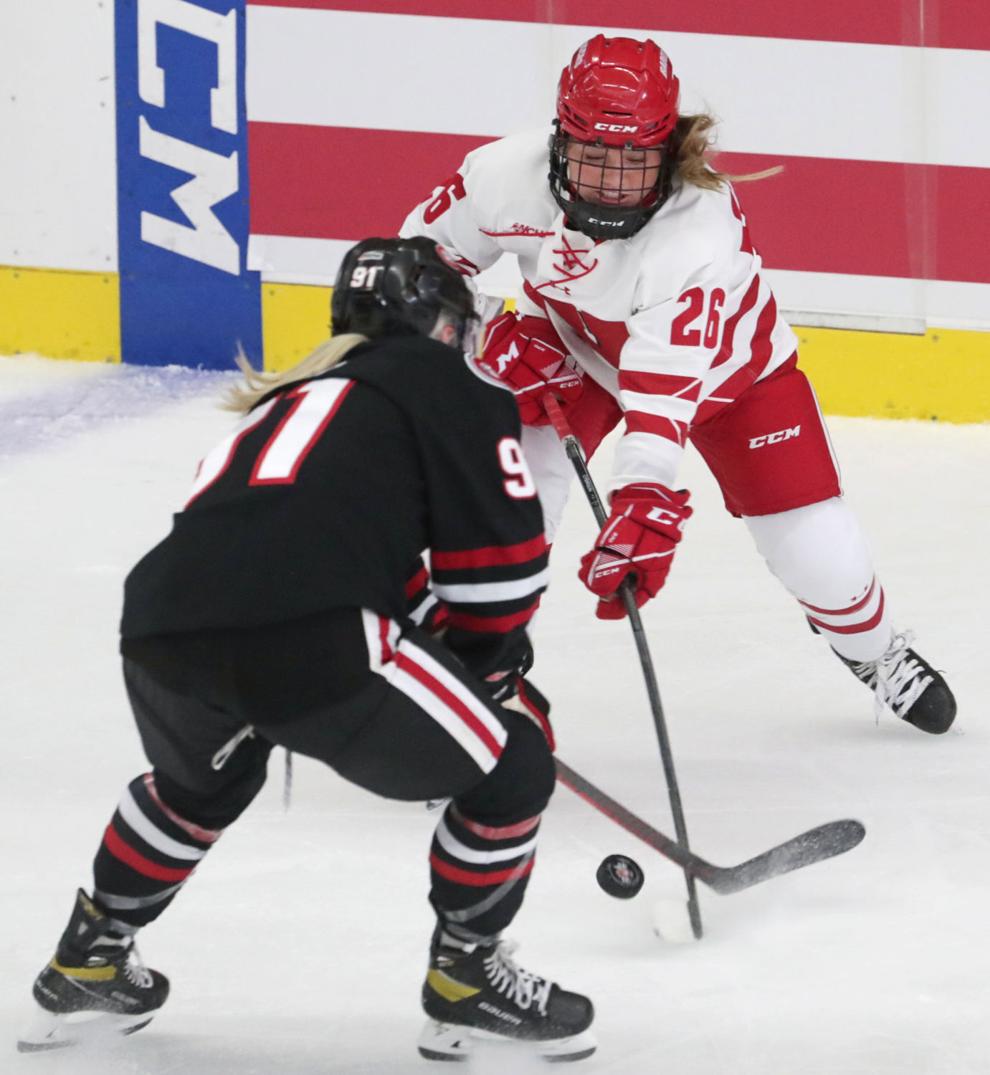 20211009_08_UW_StCloud_0897_AJA-10092021171527
Updated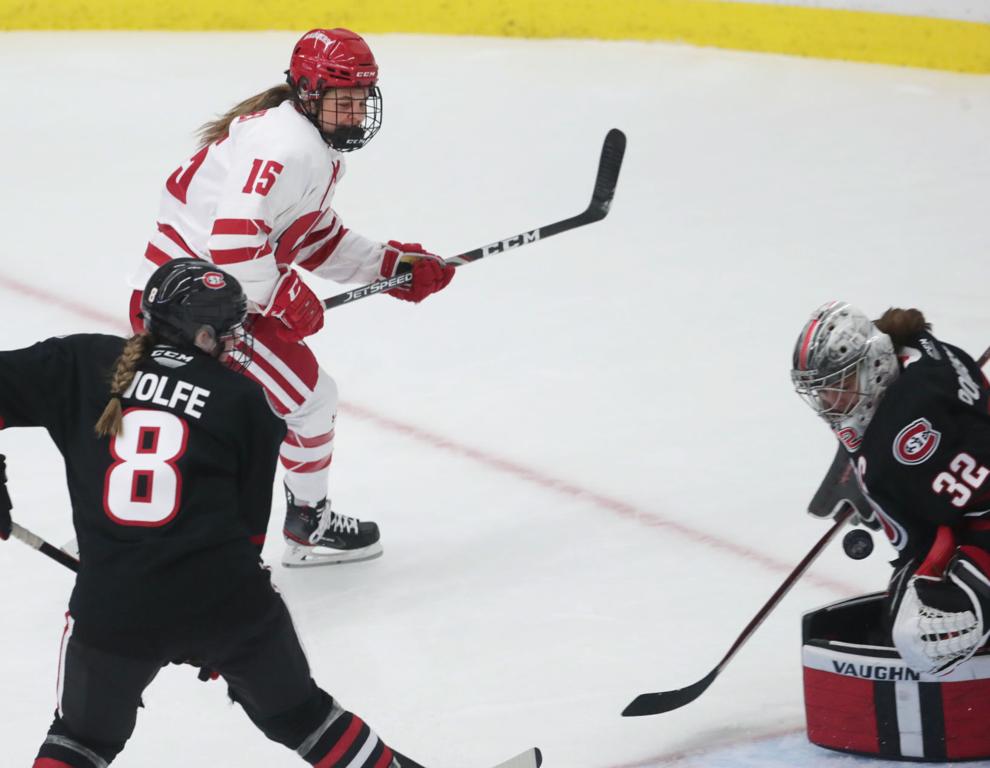 20211009_10_UW_StCloud_0578_AJA-10092021171527
Updated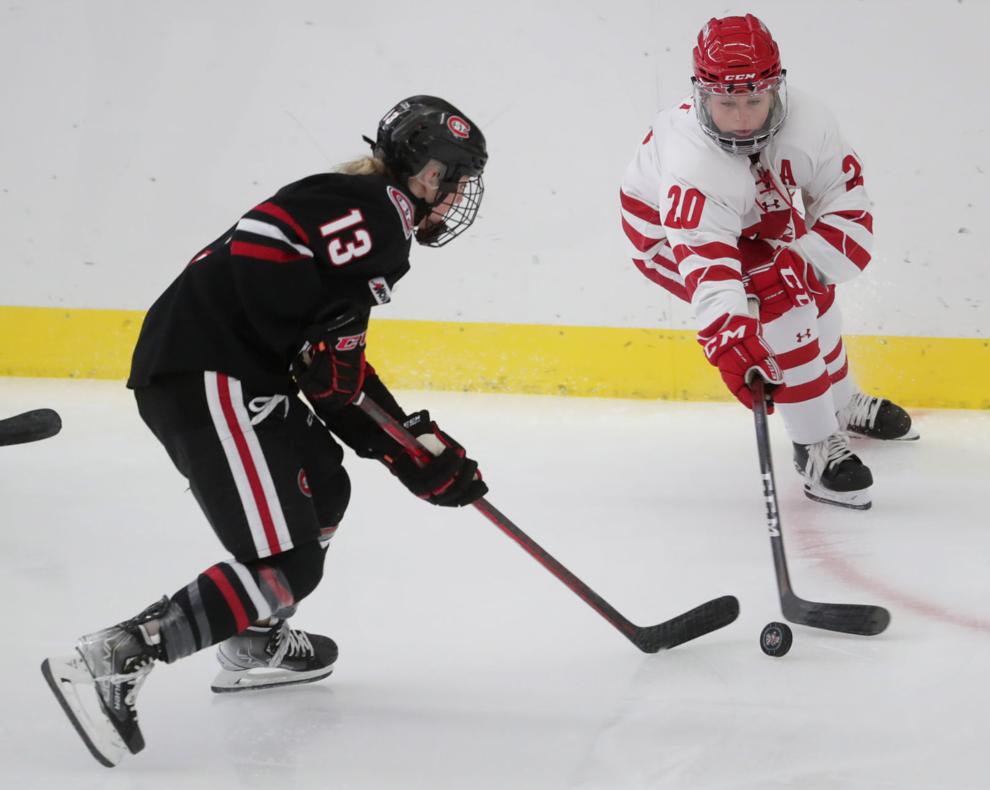 20211009_11_UW_StCloud_0377_AJA-10092021171527
Updated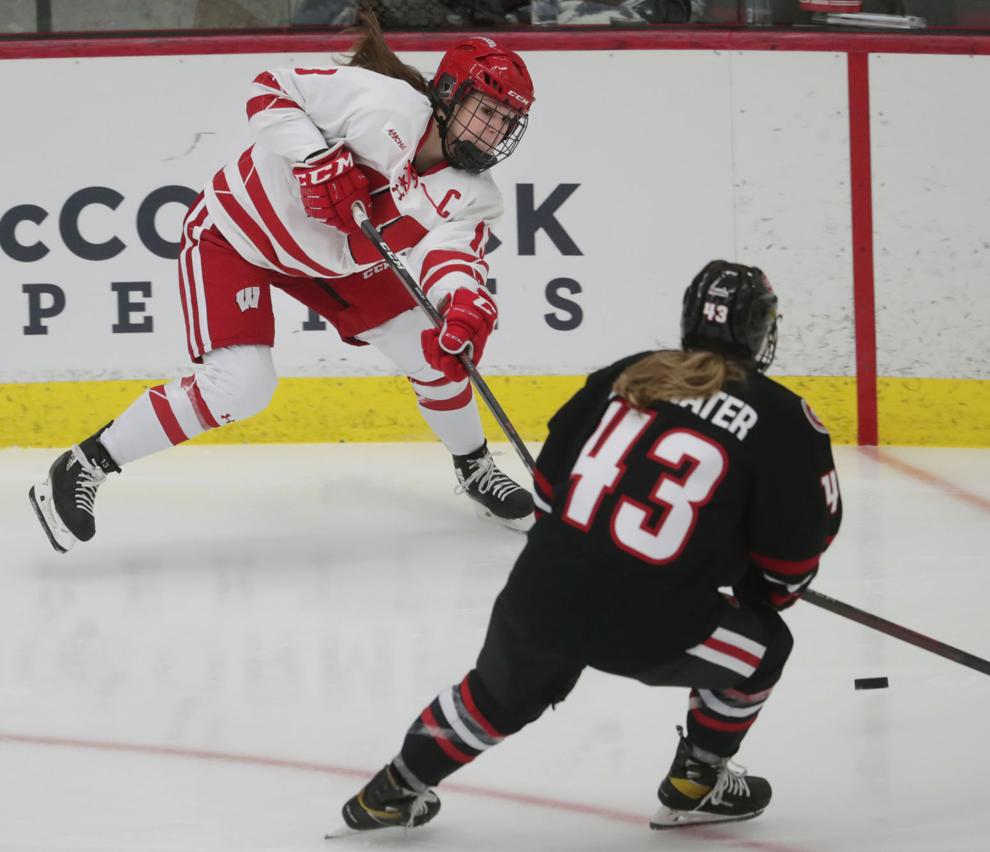 20211009_12_UW_StCloud_0371_AJA-10092021171527
Updated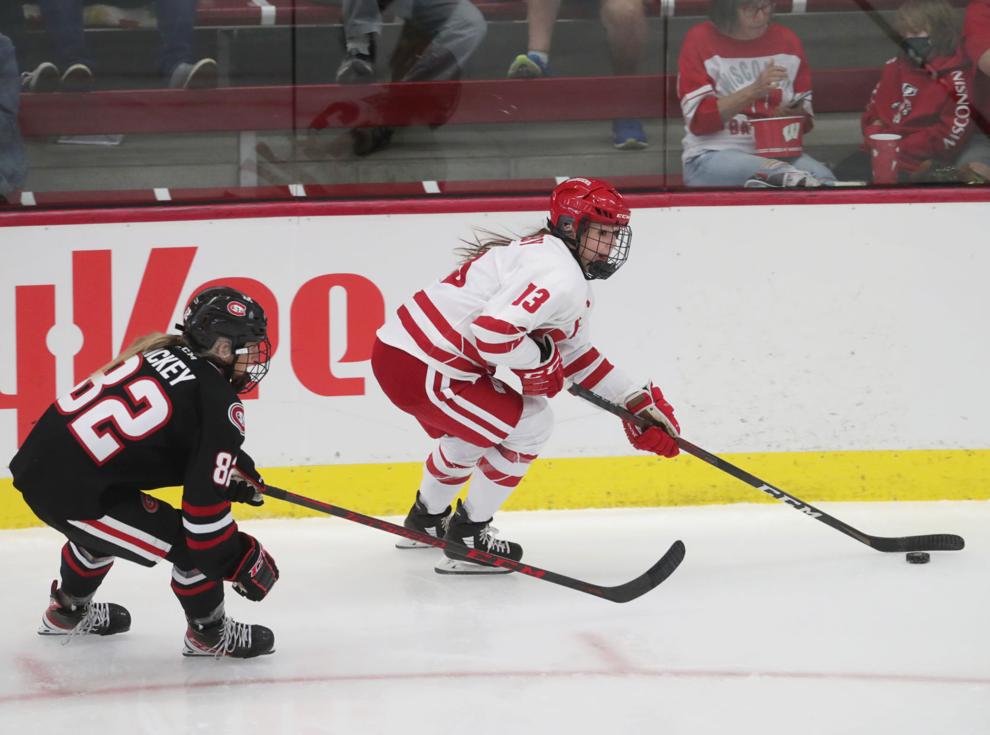 20211009_03_UW_StCloud_1820_AJA-10092021171527
Updated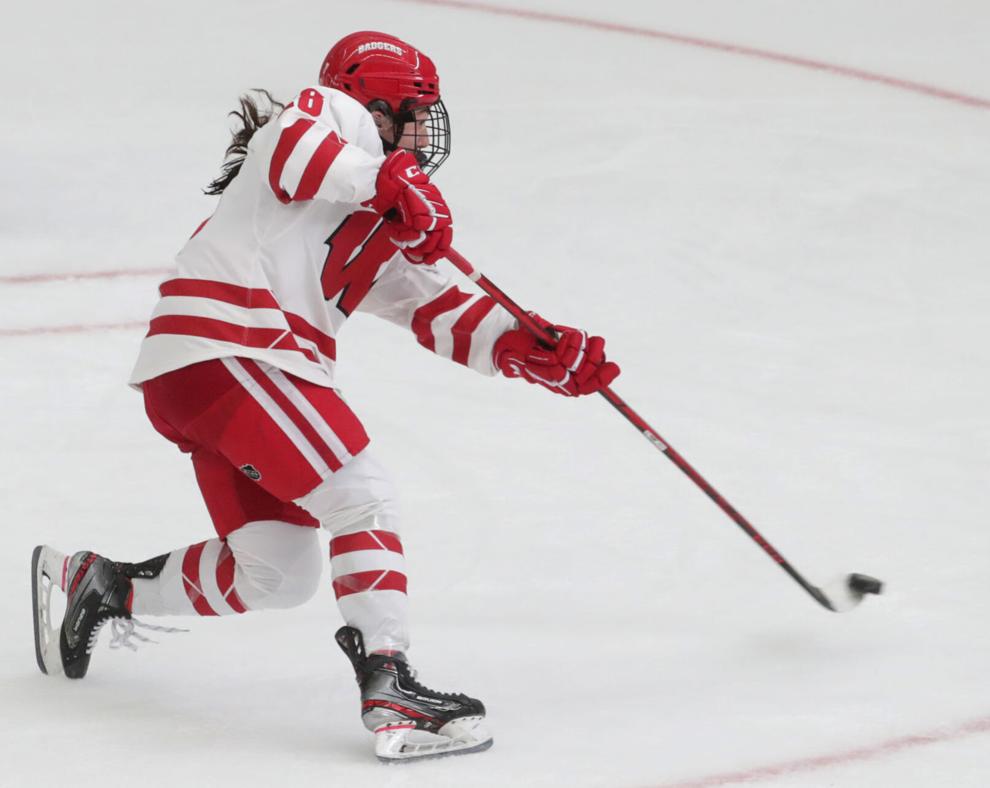 20211009_15_UW_StCloud_0009_AJA-10092021171527
Updated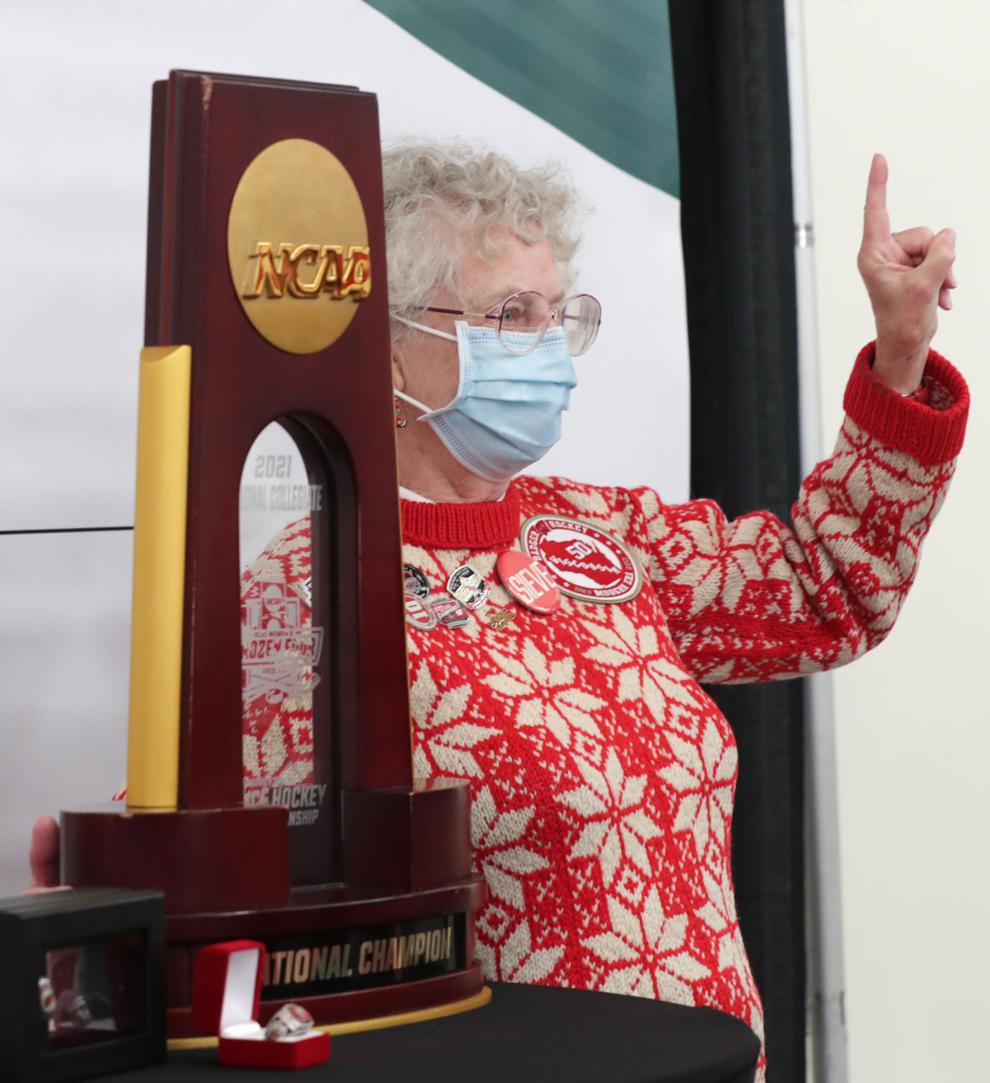 20211009_07_UW_StCloud_1443_AJA-10092021171527
Updated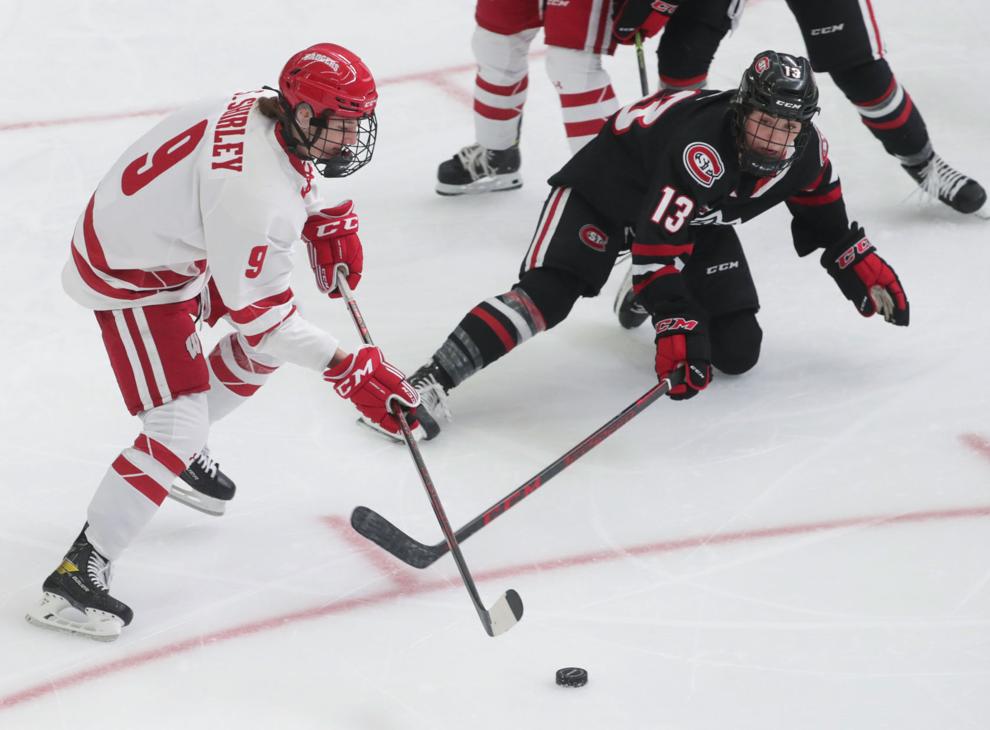 20211009_01_UW_StCloud_1863_AJA-10092021165549
Updated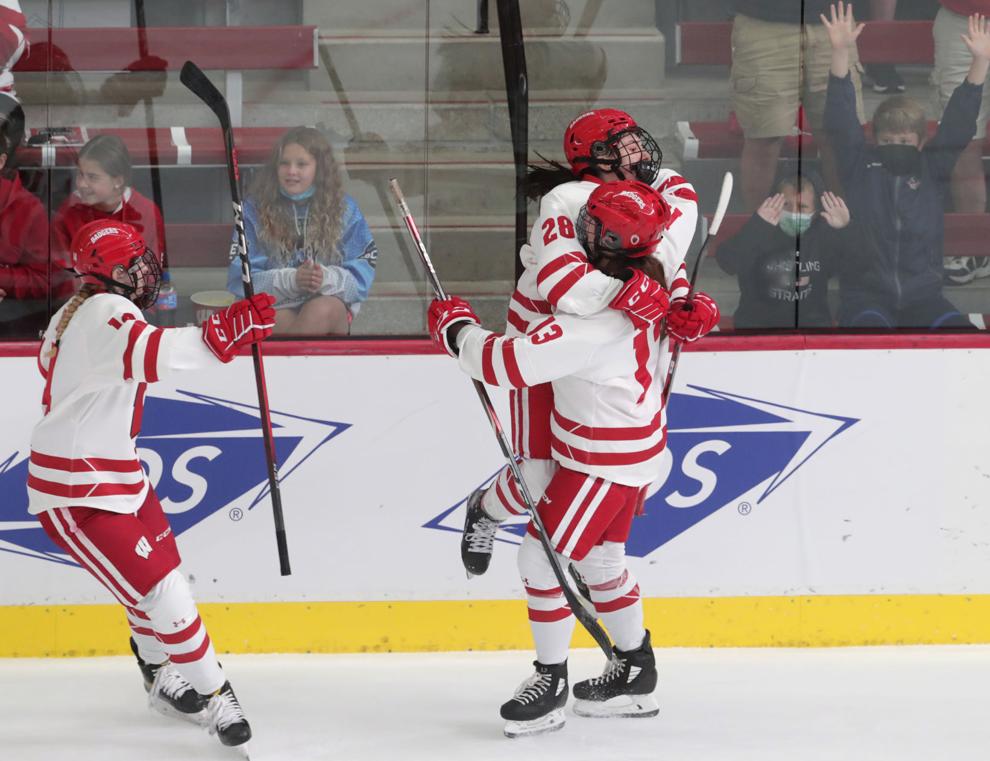 Wisconsin 1 2 0 — 3
Minnesota Duluth 0 0 0 — 0
First period: W — Webster 7 (O'Brien, Bowlby), 10:36 (pp). Penalties: S. Shirley, W, 7:00; Rogge, MD, 10:28.
Second period: W — Wheeler 4 (Edwards, S. Shirley), 7:31; Webster 8 (S. Shirley, Watts), 19:35 (pp). Penalty: Flaherty (major), MD, 19:16.
Third period penalty: O'Brien, W, 6:27.
Saves: W (Blair 7-9-8) 24; MD (Söderberg 10-12-12) 34. Power plays: W 2-for-3; MD 0-for-2. Att. — 712.