Tyler Biadasz has embodied the offensive line tradition of the University of Wisconsin football program since he joined it four years ago.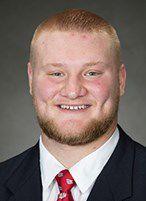 He even goes by the nickname "Badger."
He'll hope to continue the Badgers' trend of producing great NFL linemen, as he announced Wednesday he is forgoing his senior season to enter the NFL draft.
Thank you Wisconsin for all the great memories and letting me fulfill my lifelong dream of being a Badger. I look forward to competing at the highest level. The NFL has always been my biggest dream and I can't thank enough all the people that helped me along the way. #GodisGood pic.twitter.com/jTsU9k2ON1

— Tyler Biadasz (@TylerBiadasz) January 8, 2020
Biadasz, who has started 41 consecutive games at center for the Badgers, is one of the top-ranked interior linemen in this year's draft class. A consensus All-American this season, Biadasz became the first UW player to win the Rimington Award as the nation's top center.
"It means the world to me to play in such a great atmosphere like Wisconsin. The last three years have been more than a dream," Biadasz said in a video posted to his social media accounts. "They've been very touching to my heart and they've been really special to me. It's hard to say goodbye to such a great program like Wisconsin, and (to) all the experiences with so many great people here. With that said, I've decided to declare for the NFL draft."
Biadasz starred at Amherst High School as a defensive linemen, earning a scholarship to UW on that side of the ball. However, offensive coordinator and offensive line coach Joe Rudolph quickly saw his potential as an offensive lineman and started the conversion process.
After redshirting as a freshman, Biadasz became the anchor of the offensive line in his second season. With Biadasz in the lineup, the Badgers have gone 31-10, and put together strong offenses. This season, the offense tallied 6,065 yards, eclipsing the 6,000-yard mark for the first time since 2014. UW's 34.1 points per game were its most since 2014.
UW rushed for 3,263 yards, marking a second consecutive season of more than 3,200 yards on the ground. Entering the Rose Bowl, Biadasz had allowed four pressures on 352 pass-blocking snaps, per Pro Football Focus.
"I'd like to thank my family — my mom, dad, and my brother. They've supported me through everything. I'm going to miss my teammates, the bond I've had with all my coaches. I'm definitely going to remember the ups and downs we've shared and how we've grown and how we've persevered. With everything I've done here, it truly means the world to me and has created who I am today. I couldn't have done it without my coaches and teammates that supported me all the way," Biadasz said.
"Finally, I'd like to thank the fans. I'll always be a Badger. On Wisconsin."
Biadasz opened holes for two-time Doak Walker Award winner Jonathan Taylor, who also declared for the draft earlier this month.
Draft analysts from ESPN, CBS and The Draft Network predict Biadasz will be taken late in the first round or early in the second.
Biadasz is the third non-senior UW player to declare for the NFL draft, following running back Jonathan Taylor and wide receiver Quintez Cephus.
The NFL draft is set for April 23-25 in Paradise, Nevada.
---
Get to know UW's 2020 recruiting class